Photo credit: https://watermark-designs.com/
There's a lot to discuss when it comes to 2020, and its window trends are no exception. With people spending a majority of their time at home this year (especially indoors), we're seeing windows used in a number of inventive ways to recontextualize and redefine spaces. Let's take a look at how homeowners are making it happen through window styles, applications, and treatments. 
Black window frames
Black window frames meld notes of contemporary and classic, creating contrast and counterbalance to other design elements without clashing. Although they may not be the choice for everyone (few things are), they do have broadly appealing qualities that should prove them more than a passing fancy.

They make enough of a statement on their own that additional window treatments like curtains, drapes, or blinds may not be necessary. 

The same applies from an exterior perspective — trim and shutters may be only seen as a distraction from the simple beauty black window frames provide. 

They play well with modern and minimalist concepts. By reducing the number of panels and slimming down the framing material, the scene the window

is framing

becomes the emphasis. 
It's important to note that black does absorb more heat, so black vinyl frames experience thermal expansion and contraction cycles in fast-forward compared to their white counterparts. Fiberglass better resists cracking and fading, and can be more gracefully incorporated into sleeker designs.
Windows walls
Another 2020 window trend that has emerged is the conversion of walls into windows and windows into walls —in other words, as much glass from edge to edge and floor to ceiling as possible. This is typically achieved through a combination of large picture and specialty windows.
Whether a window wall is practical for your home is both a matter of scale and location — bigger homes with better views make the most obvious candidates. The aim is to evoke feelings of openness and interconnectedness with one's surroundings, especially natural ones. Biophilic (literally "life-loving") design is another 2020 buzz phrase, and natural lighting is a huge part of that.
Even if you aren't blessed with the biggest house or biggest yard, you can get a similar idea across on a smaller scale with patio doors — they're a lot like window walls, except you can walk through them.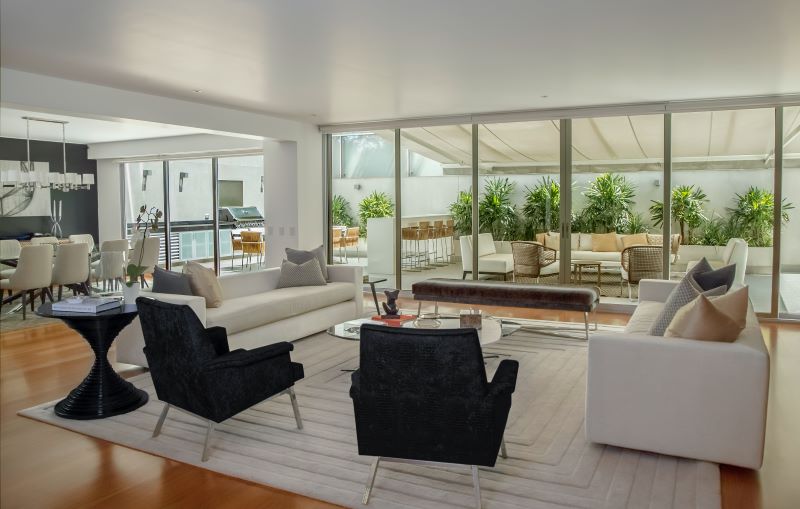 Window backsplashes
Another popular trend 2020 has brought us is the window backsplash, a length of window running in parallel to a kitchen countertop. It can manifest in one of three ways:

As a skinny, fixed window.

As a series of

operable sliding or gliding windows

As a corner window for a more three-dimensional view into the outdoors.
Any route you go, window backsplashes are also quite compatible with the biophilic design ethos we mentioned earlier — especially if coupled with a view of vegetation or other land features.
Smart windows and blinds
As much as we insist on blurring the lines between indoors and outdoors, manmade and natural, we're still suckers for technology. Smart windows, blinds, and shades are fully programmable and controllable from anywhere inside and even outside your home. Smart windows and window treatments can be integrated into an existing home automation system or operated from their own dedicated app.
Which trends have the most long-term traction?
The risk of any trend is a short shelf life — what's in vogue today might be passé tomorrow. However, there's some pretty practical thinking behind these 2020 window trends that should grant them staying power. One thing that will never change, however, is our commitment to providing you with premium quality and craftsmanship — no matter what year we're living in.