Are glass storm doors still a necessity? Sure, they've been shielding our entry doors from the elements for well over a century, dating back to the late 1800s. However, entry doors have come a long way since then, constructed with materials and technologies more than capable of resisting climate extremes on their own. Therefore, storm doors should be looked at today as more of a preference than an obligation in most circumstances. 
For homeowners of habit, however, there remain plenty of options in terms of storm door frame materials, styles, and finishes. 
Material examples:

wood (for aesthetics), steel (for ruggedness), aluminum (less expensive alternative to steel), composite (great all-around performance), vinyl (economy)
Styles:

full view (glass from head to toe for most folks), mid-view (glass pane begins at shin), high-view (glass pane begins above belt level for most adults)
Colors and finishes:

including anything from standard white to brushed nickel to antique brass and aged bronze
Many storm doors double as screen doors, with panels that can be retracted or swapped in and out as the weather warms and cools. For the majority of the year in most climates, though, the strength and energy-efficiency of the glass are the main considerations.
Clear vs. low e vs. laminated glass
As we've covered in a previous post about ENERGY STAR windows and doors, not all glass is up to the task when it comes to energy efficiency. When shopping for storm doors, you'll come across three main categories. 
Clear glass
Traditional storm doors consist of a single pane of clear glass surrounded by the framing material of your choice. Although often tempered — i.e., thermally/chemically treated for additional strength — they have little benefit other than as a barrier from precipitation. Essentially a full-sized energy-inefficient window, they're great for natural light and a view, but not incredibly effective on their own in preventing heat gain/loss or blocking out UV radiation. 
Low e glass
Low emissivity or low e glass is overlaid with a microscopically thin film of metallic oxide (such as tin or silver) that reflects radiant heat back toward its source — outward during the summer or inward during the winter. It's virtually unnoticeable to the naked eye but will have a grayish cast when viewed at the right angle. They're designed with the idea of allowing all the desirable wavelengths of light through (the visible spectrum) while blocking out harmful ultraviolet and infrared wavelengths.
Laminated glass
The most resilient storm doors are made from laminated glass, a triple-layered configuration that features a plastic vinyl interlayer sandwiched between two panes of tempered glass. It is impact- and shatter-resistant, giving homeowners peace of mind from both a home security and weather protection perspective (for instance, areas susceptible to wind or hail damage).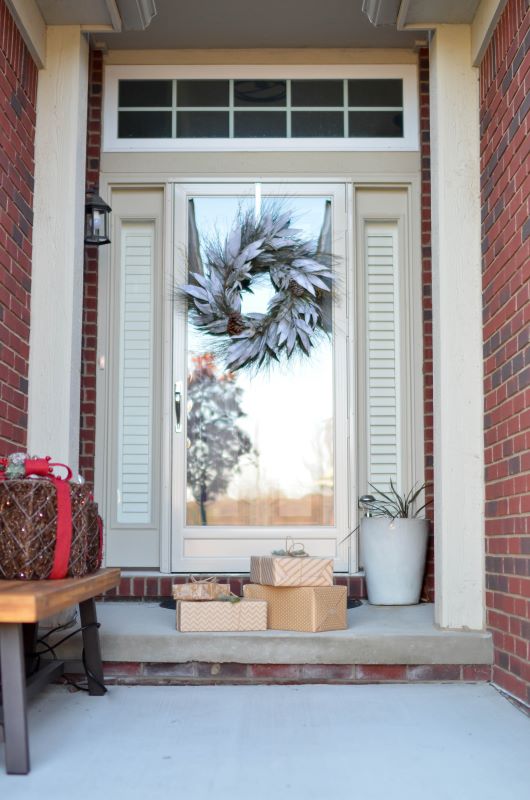 Low e glass advantages
Low e glass storm doors are a smart play for mitigating large-scale energy loss and regulating temperatures. When installed in front of entry doors that are older, they help slow air leakage aka the dreaded "energy out the door" — you won't be "heating the outside" as much if you live in that particular house year-round. As such, they're great installed in garages or patios without their own HVAC system, especially if you spend a lot of time hanging out there. 
Like clear glass and laminated glass storm doors, the low e glass variety offers a buffer from the elements and adds to home security. Unlike their clear glass counterparts, low e storm doors offer UV protection to prevent fading from the sun's rays.
Low e glass disadvantages
Unfortunately, the reflective properties of low e glass can work against you. If your entry door receives a lot of direct sunlight, heat can become trapped between the storm door and the entry door, causing a host of problems — a phenomenon called a "heat sink." 
In the winter, condensation can form on the inward-facing surface of the storm door as cold air meets trapped hot air, turning the entire pane into a sheet of ice. Over time, the expansion and contraction caused by temperature differentials warp, bow, or compromise the entry door itself. By the time that happens, you've done more harm for your energy-efficiency than good. 
Are low e storm doors worth it?
At the end of the day, you have to assess the value of a low e glass storm door in the context of the existing entry door. Is it brand-new or showing its age? Is it shaded or bearing the full brunt of the sun? Exposed to the prevailing winds?
If it's primarily energy savings you're after, it's wise to focus on your entry door first and foremost. If you can't afford to replace it, seal around the edges with good weatherstripping or apply caulk, spray foam, or mastic. But if you're in a demanding climate and/or one with a lot of seasonal variances, a low e glass storm door could be a sound investment. 
Need our input?