So the time has come to update your entryway. With the myriad options available in today's marketplace, you may be wondering if you'll find an exit to the rabbithole before you ever find a new entry door for your home. If you're starting to feel overwhelmed, just think of what you need an exterior door to do. Compared to interior doors, exterior doors have much more demand placed on them. They must provide insulation and protection from the elements, privacy, security, and mesh with your home's overall aesthetic — especially front doors, as they are a key feature of your home's public face.
In the past, homeowners had but one option for exterior doors — wood. While wood still holds favor for its good looks and classic charm, it is pretty high-maintenance and not always the most user-friendly. Given that, today's exterior door decisions are often a question of steel vs. fiberglass. 
Steel vs. fiberglass exterior door construction
One of the main things that differentiate an exterior door from an interior door is the presence of an insulating core within the slab (the main part that swings in or out from the encompassing frame). Despite being called a "steel" door, the bulk of its construction is its polystyrene or polyurethane core, which is encased in a steel shell measured by thickness, typically 20 to 26 gauge for exterior applications. While sturdy, steel exterior doors are not exactly impenetrable barriers that only a superhuman could ever muscle through.
Fiberglass doors are sometimes referred to as "fiberglass composite doors," or simply "composite doors." They're comprised of fiberglass-reinforced plastic with a hardwood framework and a polyurethane insulating core. Cutting-edge manufacturing techniques can emulate textures of other materials, such as wood.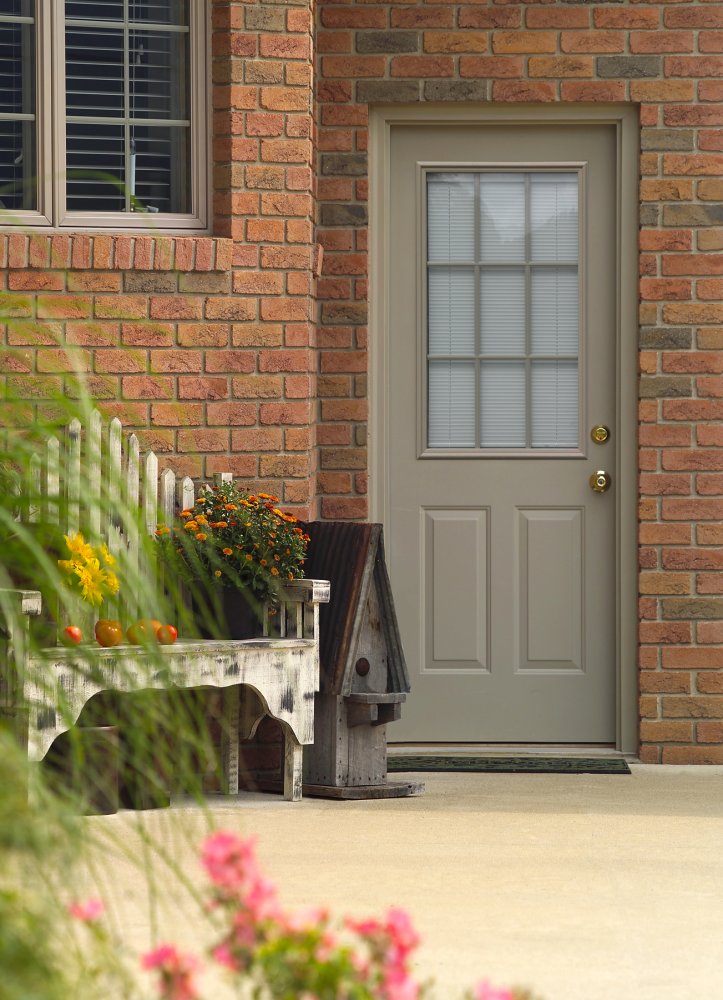 Steel vs. fiberglass exterior door aesthetics
Both steel and fiberglass doors can offer serious curb appeal. The difference is that fiberglass doors can be stained and painted, whereas steel doors can only be painted (if you plan on painting, seek out primed steel doors). Unlike steel, fiberglass exterior doors can be prepared to appear nearly indistinguishable from wood, which may be very appealing to those who want a traditional look without the fuss. 
Both steel and composite exterior door types are available in many design configurations and can accommodate lites (glass panels) of various proportions, shapes, and transparencies, with both outswinging or inswinging models (outswinging withstand wind and moisture better than inswinging, so keep that in mind if you are not pairing with a storm door). Decorative flourishes like sticking (molding around panels) and transoms (glass units above the door frame) can further elevate your entryway.
Steel vs. fiberglass exterior door performance
Composite exterior doors are superior insulators and are suited for many climates — hot or cold, wet or dry. Unlike steel doors in wet climates, they are not susceptible to rust. Unlike steel, fiberglass does not transfer heat, which makes it a better choice for areas with greater seasonal fluctuations in temperature. Both materials are significantly more resilient than wood over time.
Steel vs. fiberglass exterior door cost
Given its strength, performance, and versatility, a composite entry door is going to cost you more than its steel counterpart. However, steel can offer great value for first-time homeowners, along with striking looks and stout security. Be sure to factor in the cost of installation as well — prehung doors include the framing and hardware, making them easier to handle for DIYers, while slabs contain only the door itself. The onus is then on the installer to ensure proper fit and swing. In either case, a professional installer is a good idea considering the importance of an entry door.
Welcome them in style with Hodges Windows & Doors
Don't leave your design ideas at the threshold. Contact Hodges Windows & Doors for a better idea of how you might fit a new entryway in with your home and budget.