100 Years of Workmanship at Hodges Windows & Doors

In 1907, Albert B. Hodges, Sr. began his lifelong career as a window repairman. Over the years, he was joined by several of his brothers and brothers-in-law, establishing a family business that has withstood the test of time by adapting to the changing needs of homeowners in the Washington, DC area. During World War II, the company began installing home insulation to help a nation at war conserve fuel.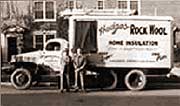 When Jack Hodges was discharged from the Army Air Corps in 1946, he helped his father build a full-service construction company. Over the years, father and son found remodeling and renovation more challenging than new construction, and they chose to focus their expertise on window and door replacement and renovation.
In 1972, Albert B. Hodges, Jr. joined his brother, and the two operated the business together until 1983 when Jack retired. Mark Russow joined the company in 1980, and in 1994, he became Vice President and co-owner. Today, Mark runs the company with the assistance of many long-term employees, continuing the family tradition that for a century has made Hodges a trusted name in windows and doors.