Ordinary interior doors separate spaces; luxury interior doors distinguish them. Although luxury interior doors vary greatly in design, they share a few key traits — quality of construction, fineness of detail, and superiority of performance. Not only do they look different, but they also feel different. Yes, they cost more upfront, but for many homeowners, their enduring style more than justifies the investment.
Luxury interior door materials
Another thing that differentiates luxury interior doors is their ability to be customized or uniquely adapted to the space they're in. Certain materials lend themselves to that level of craftsmanship better than others, while offering the degree of sturdiness homeowners expect.
Wood
Endlessly versatile and timeless in application, wood has been the go-to for luxury interior door designs for centuries. A standard rectangular door can be accented with various panel configurations (with sticking, or panel detailing, contributing additional depth and character) to create an incredibly diverse spectrum of aesthetics.
Steel
The flagship partner of all things modern and contemporary, luxury steel interior doors maximize sightlines and minimize excess. Thin, sleek stiles and rails leave behind a larger viewing area — ideal for highlighting the most spectacular spaces in your home. 
Wrought iron
While more typically used as an entry door, a high-end wrought iron door could offer quite the visual impact in the right place. They're known for striking and ornate patterns and often stand alone as an artistic statement unto themselves.
Fiberglass
Fiberglass is the chameleon of door materials, convincingly taking on the appearance of other surfaces to match virtually any aesthetic. To boot, their engineered strength is seldom matched.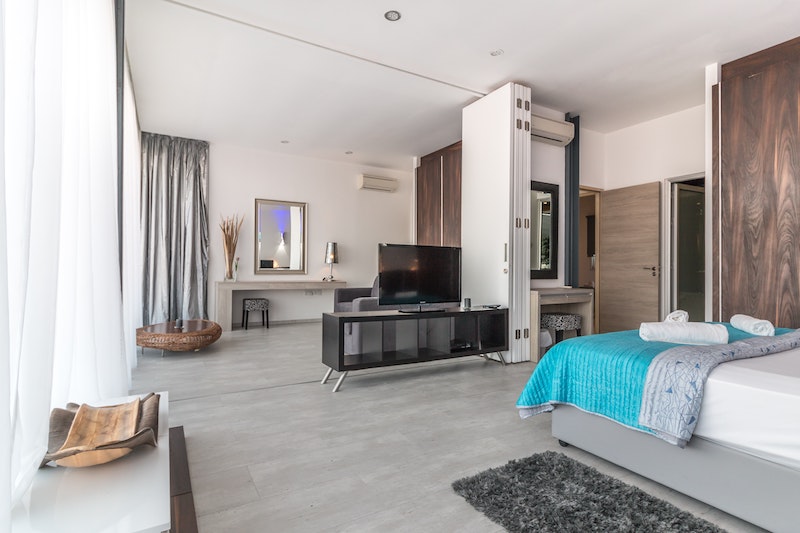 Luxury interior door types (and where to use them)
Pocket door (aka invisible door)
Another way of classifying luxury interior doors is how they operate. Pocket doors slide into and out of a "pocket" built into a wall, opening up (for entertaining) or closing off a space (for privacy) at will, from floor-to-ceiling — a similar effect to a convertible. Because of their ability to disappear from sight completely, they're sometimes also referred to as invisible doors.

Where to use one: Master bedroom — leave open for access to the master bath during regular at-home time, slide closed while entertaining guests.
French interior door
The French interior door consists of two separate slabs mounted to opposite sides of a wide frame, swinging open from the center. Their appeal has remained consistent for centuries for a few good reasons — symmetry, light, and ventilation. Because of that, they were traditionally used between an indoor space and an outdoor space (such as a balcony, veranda, or patio). Regardless, they make a lot of sense joining indoor spaces together, especially a hallway or passage into a larger communal space.
Where to use one: Living room
Mission style door
One of today's trendiest paneled door styles is the mission-style, or arts and crafts door. These doors feature flat, vertical panels and emphasize the fineness of the wood grain (often oak) and finish itself. Use it to achieve a classy, refined look without being pretentious. 
Where to use one: Wine cellar or study
Luxury interior doors from Hodges
The interior design possibilities attainable with luxury doors are nearly endless. Hodges Window and Door carries some of the most reputable brands in the business, including Jeld-Wen IWP Wood, Jeld-Wen IWP Aurora, Clark Hall, and French Steel. Contact us to learn how you can make a statement in your home today.