The window and door industry is ever-changing. With the rise of new technologies, including fiberglass and vinyl, the industry has seen a lot of change over the years. One thing that hasn't changed much in recent history is the manufacturing lead time for windows and doors. Manufacturing and production lead time refer to how long it takes for a company to get materials from their supplier, then ship them out to you once they're ordered or made if you buy stock items directly from them. 
This post will explain what production lead time means and why it's important for homeowners, builders, contractors, and manufacturers alike.
What is "lead time" and why is it important?
Windows and doors are a major component of any home. They provide protection from the weather, noise, and insects. But what is lead time? Manufacturing lead time is how long it takes to produce your new windows or doors once you have ordered them. This can vary greatly depending on whether you order custom or standard size items, what materials they are made of, and the industry for which they are being installed. 
Production and manufacturing lead time is a crucial metric for any business. It assists the company in predicting sales, making operations efficient, and improving customer satisfaction. However, it would be tough to improve production lead times in the absence of a proper inventory management system, efficient production process, and the right suppliers.
In addition to projects and manufacturing, lead time can also be applied to decision-making. Any stage of a project's life cycle can be referred to as "lead time" by project leaders and manufacturing managers. 
A manufacturer's lead times are important to consider since they might directly or indirectly impact you. A good example of a direct impact would be production times for a manufacturer that needs to ship products across the country.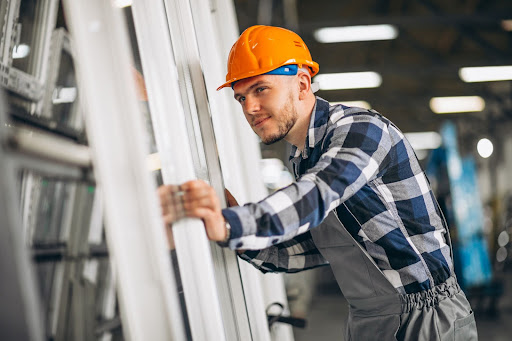 What are the types of lead time?
When it comes to manufacturing and production lead time, there are a lot of factors that can affect the project. Understanding what type of production and manufacturing lead time you have will go a long way in determining how best to plan your production schedule. 
The top five causes for delays in production are late payment, difficulties with financing projects by the contractor/manufacturer; slow decision making, and approval process related to the procurement of materials or design documents.

There are four main types of lead time in window and door manufacturing:
Processing Time

- the window or door is processed by a window and door manufacturer. It is also called production time or window and door manufacturing lead time. 
Transportation Time

- Window and door manufacturers need to ship the window or door from their production facility to another location, such as a construction site. 
Decision-Making Time

- this is when project managers make decisions in the window and door manufacturing process. 
Waiting Time

- this window and door lead time is associated with the window or door being in storage or waiting for processing at a window and door manufacturer.
The window manufacturing industry is filled with competition. This means that window manufacturers need to produce products in the shortest amount of time possible so they can keep their clientele satisfied. Timely delivery window and door manufacturing lead times help window manufacturers maintain a successful window and door business.
How much window or door production lead time do you need?
To determine your window and door production requirements, you'll have to know how long it takes your window and door manufacturer to produce windows and doors.
The window and door manufacturing industry doesn't have a set window or door lead time that all companies abide by, although there are standards or guidelines for this to be achieved. One major issue is that window and door makers work within different market segments - meaning they produce custom products for the construction industry rather than standard window and door sizes.
Regarding window and door lead time, there are some guidelines to follow:
Standard window and door production lead time is typically 1-2 weeks after the window or door has been ordered. 
Custom window and door production times will vary depending on the size and material window and doors are made out of. Factors such as window and door size, window and door manufacturer, window and door material type, window and door industry segment, window frame sizes, window frame colors, window frame material types, internal glazing materials, and external glazing materials can affect the production lead time. Standard lead times for custom window production are typically 3-5 weeks, with additional window lead time required for window and door color choices.
Lead times for window and door installation vary depending on the window frame sizes, window frame colors, window frame material types, internal glazing materials, and external glazing materials. A rough guideline is that standard window and door installation can take up to 1-2 weeks, with window and door installation taking up to 2-3 weeks for custom window and door projects.
The window and door production lead time will depend on the window or door you need. This is why every window and door project requires a window and door manufacturer that can meet your needs, whatever they may be.
How Hodges excels in lead time in the industry
When it comes to choosing your next window or door, don't settle for anything less than perfect. Hodges Windows and Doors offers some of the best products on the market today at prices that won't break your budget.
Hodges Windows and Doors is the premier D.C. area window company. We're committed to providing our customers with high-quality products and services that exceed their expectations. Our team of experts will help you find exactly what you need when you need it. We offer a wide range of options including custom windows, doors, shutters, blinds, and more! You can count on us to provide expert installation so your home looks its very best.