originally published at northernvirginiamag.com
From dry maple leaves to homegrown corn, here's how two experts recommend using natural items as decor during the cooler months.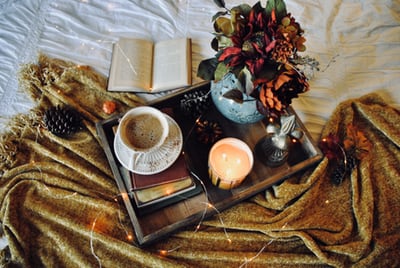 It's officially the start of fall, and it's time to get adjusted to the cold. Whether that means purchasing heavier clothing or turning up the heat in your car, you want the environment you live in to be comfortable and cozy, and also reflective of the season.
The same is true of your home. And this fall, you can try bringing nature inside to add a little flare to your interior design, according to two local experts.  
"There is nothing more cozy and welcoming than organic arrangements made from outdoors, especially in the fall," says Sallie Kjios, owner of NoVA-based design company Grey Hunt Interiors. "Cutting branches and making an arrangement in a vase can make the perfect statement piece for zero cost."
According to Kjios, another way to incorporate items from the outdoors is by pressing dry leaves, such as maple, oak and birch, onto a piece of card stock and framing it for a seasonal touch in a foyer or dining room. 
In addition to looking nice, bringing natural elements into design can be beneficial for overall mental health, too. According to a study from the Journal of Physiology and Anthropology, interaction with live, indoor plants, such as touching and smelling, can reduce psychological and physiological stress.   
While live plants have their benefits, Andrea Gabor, plant and design specialist at Fair Oaks' Merrifield Garden Center, recommends using outdoor pieces that aren't alive during the fall and holiday seasons. 
"Using things like acorns, pine cones and leaves on a dining room table really looks great," says Gabor. "Of course there are mini pumpkins, too, that are great for a seasonal dinner, and you can grow those if you start early in the previous spring." 
This fall, log rounds are popular at Merrifield and beyond, according to Gabor, and make for a simple, yet elegant centerpiece paired with candles. For those who want to get crafty with the natural elements, Gabor recommends painting pumpkins and gourds to match the color scheme you want inside the home. 
For Gabor, the natural pieces create a feeling as much as they do a beautiful, seasonal look.
"You can always splash a wreath on the front door or even put corn and bales of straw by the mailbox to make the exterior feel as comfortable as the interior," says Gabor. "Every time I see outdoor plants inside, I think of the family getting together."