When you're shopping for new windows, you're likely to come across the terms "casement windows" and "awning windows" a lot. So, what exactly are these types of windows, and what's the difference between casement vs awning windows?
Well, casement and awning windows are actually very similar — they're both types of "crank" windows. This means you open and close them manually using a crank mechanism. 
The key difference between casement windows and awning windows is where they are hinged. Casement windows hinge at the side, whereas awning windows hinge at the top. 
Both types of windows open fully outward, making either of the styles a great choice when you want lots of ventilation and natural light.
Window Features
Casement Windows
Casement windows operate in a similar manner to a standard door. In other words, the side hinges allow them to swing open to the left or right of the window frame.
Most casement window models are operated by a hand crank, but there are also push-open models available. When the window is shut, there's an internal latch that keeps the window securely closed.
Casement windows are available in many different sizes, but they are generally designed for window openings in which the height is greater than the width.
They provide clear, unobstructed views of the outdoors, so they're great for people who want the views that picture windows provide but with more functionality.
Awning Windows
Awning windows operate the same way that casement windows do (usually with a hand crank), with the only difference being that they swing upwards when opened, instead of to the left or right.
This gives them an added function that casement windows don't have: when awning windows are open, the sloped surface directs rain and other moisture away from the window opening. 
Therefore, you can leave your windows open for airflow during light rain and not worry about rainwater getting inside! This is great if you live somewhere with a mild but damp climate.
Another key difference between awning vs casement windows is that awning windows are made for window openings that are wider than they are tall.
Casement vs awning windows: summary
Both crank open and closed

Casement windows open to one side

Awning windows open upwards

Casement windows are taller than they are wide

Awning windows are wider than they are tall

Both provide ventilation, natural light, and views

Awning windows can deflect moisture
Window Placement
Casement Windows
In terms of placement, casement windows are a good choice for awkward, hard-to-reach places, like above countertops or sinks, or windows that are too high for you to reach without standing on something.
The accessible hand crank makes it much simpler to open casement windows where there are obstructions. Rather than needing to climb up on your kitchen counter or step up on a chair to open or close the window (as you might with a traditional double-hung window), all you have to do is turn the crank!
It's important to note that casement windows are most suited to small- to medium-sized window openings. This is because, if the windows are too big, the weight of the glass can cause the side hinges to get bent out of shape over time.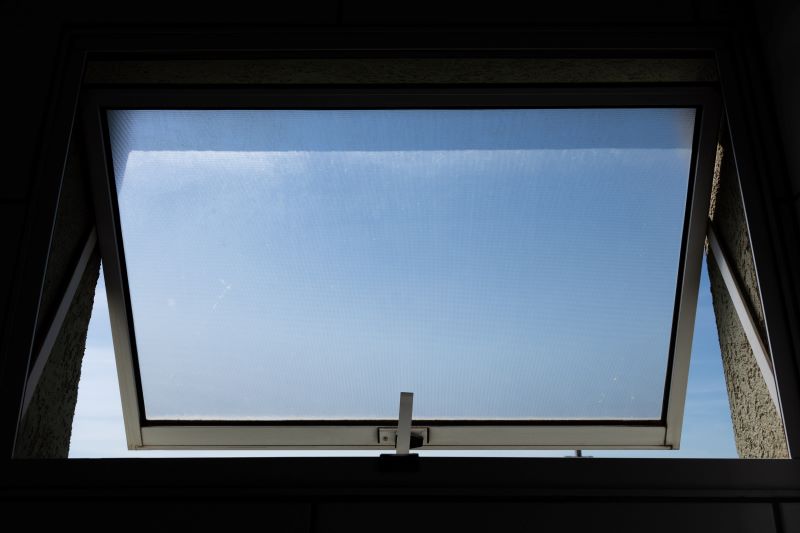 Awning Windows
Awning windows are great for rooms in which you want to be able to leave the windows open for maximum ventilation a lot of the time, even if it's raining outside. For example, they work well in kitchens, bathrooms, home offices, and living spaces.
They also pair wonderfully with large picture windows to get maximum light and visibility, while still allowing for plenty of airflow. 
For example, you could have a picture window that takes up almost the whole wall of your living room, combined with a short and wide awning window at the top or bottom that you can open for ventilation.
You may also choose to place awning windows high up on a wall, to let light and air in without making a room any less private — kind of like a skylight.
Like casement windows, awning windows are available in a wide range of sizes. But, since they are wider than they are tall, they aren't really meant for tall window openings. 
However, you can stack multiple awning windows or use a mix of awning and picture windows if you want to fill a taller window opening with top-hinged windows.
A final note on casement and awning window placement: since both types of windows swing outwards when opened, you need to give them plenty of clearance. 
Make sure trees, shrubs, and other objects are far enough away from the window openings for the windows to open all the way with no obstructions.
Energy efficiency
There isn't really any difference between casement vs awning windows when it comes to energy efficiency. Both styles of windows are designed to be highly energy efficient by modern standards. 
You can purchase models in either style with energy-efficient double- or triple-pane glass, depending on your energy efficiency requirements and budget.
Security
Both types of windows are considered to be among the most secure windows you can get because they cannot be opened from the outside. You must be able to turn the hand crank on the inside to get them open.
Replacement windows from Hodges
Hodges Windows and Doors has an extensive inventory of the most modern casement and awning windows. 
Whether you're looking at replacing your windows as part of a renovation or undertaking a new construction project, we have the expertise to help you choose the best awning and casement windows for your property.
What are you waiting for to take your home's windows to the next level? Contact us today for more information about the awning and casement window models we offer or to get a free quote.