Since the pandemic hit in 2020, many of us have been spending a lot more time inside our homes, perhaps gazing longingly out the window wondering when life is going to get back to normal.
So, speaking of looking at windows, what's hot right now in terms of the latest window trends? With 2021 coming to a close soon, we wanted to write an article to fill you in on some of the top window and window treatment trends of 2021 that we've noticed.
Impact windows
Impact windows are a special type of impact-resistant window made from reinforced glass (or plastic, in some cases). They are often used for improving security in homes and businesses, but they can serve other purposes, as well.
Benefits of impact windows:
Help prevent forced entry/burglary

Help with storm damage mitigation (especially in hurricane zones or areas prone to strong windstorms)

Can be used for soundproofing

Can improve

energy efficiency
One of the primary uses for impact windows is to prevent forced entry and burglary, because they are much more difficult (or impossible) to break using traditional burglary tools, such as crowbars and hammers.
Impact windows can also be used to prevent storm damage, since a flying piece of storm debris cannot easily shatter them.
A lesser-known use of impact windows is to soundproof a home or business. Impact windows are typically thicker than standard annealed windows and they can even be retrofitted on top of an existing window to add an extra layer of glass to the window. This all serves to block out street noise and other ambient noise from outside.
Finally, since adding impact windows on top of an existing window adds a pane of glass, this can improve energy efficiency. Why? Well, the more panes of glass there are, the less thermal transmission there is through the window. So, you're less reliant on running your HVAC system constantly to maintain comfortable year-round indoor temperatures.
Glass, and more of it
We already mentioned that many of us have been spending a lot more time indoors over the past year, and perhaps that's responsible for this top window trend: large picture windows.
If you're going to be stuck inside, you at least want to let plenty of natural light in and enjoy sweeping views of the outdoors, right?
Over the past year, many homeowners have been opting to install large picture windows and sliding glass patio doors, which are essentially operable picture windows.
Pass-through windows
Another window trend we've noticed over the past year has been people installing pass-through windows in their homes. A pass-through window is basically a sliding window that connects indoor and outdoor spaces. 
For example, you could install a pass-through window between your kitchen and an outdoor patio. This serves to really open up spaces and let a lot of fresh air and light into different areas of your home. 
Not only that, but if you're going to be entertaining people at home instead of going out, it's convenient to be able to pass things like food and drink directly from the kitchen to a patio via a handy pass-through window.
Black window frames
Another window trend of 2021 is the continued popularity of black window frames. 
Besides being a classic color that never goes out of style and looks great against lighter color schemes, black window frames also serve a functional purpose: they make views of the outdoors more vibrant. 
You could say that large picture windows and black window frames are the perfect combination when you want some majestic views from inside your home!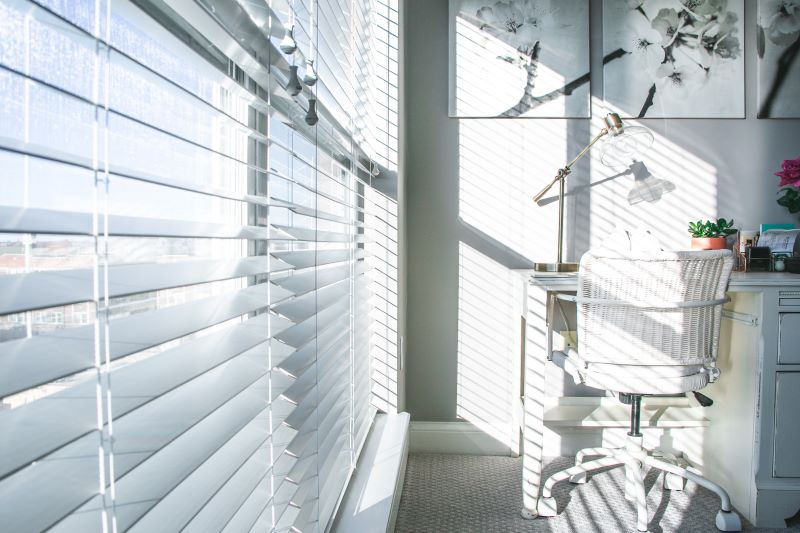 Window treatment trends in 2021
So, now that we've covered some of the latest window trends, what about window treatment trends of 2021?
Just in case you aren't sure what exactly the term window treatments means, it's a term that refers to everything around the windows other than the glass and the frames. For example, curtains, blinds, drapes, and shades are all window treatments.
One of the biggest window treatment trends we noticed over the past year was the popularity of Roman shades and roller shades. This is perhaps because these types of shades are available in an increasingly wide variety of colors, shades, and transparencies that can complement any room's interior decor and provide the perfect functionality.
They're also very simple to operate, providing instant privacy and sun-blocking or letting you appreciate views and enjoy natural light with ease.
Another popular type of window treatment right now is colonial-style shutters, or wooden louvered shutters. This style of shutters add a touch of classic elegance to any window, and are very easy to control when you want to let sunlight filter in.
One type of window treatment that's NOT in right now is heavy drapery. People simply don't want to deal with big, unwieldy curtains and drapes over their windows. They can be inconvenient when you want to cover your windows, and can make a room feel stuffy and dark when they're in place over your windows.
The latest in window trends from Hodges
Hodges Windows & Doors partners with some of the top brands in the window and window treatment industry who stay on top of the latest window trends. 
We always strive to offer the latest in window technology and work hand-in-hand with our clients to achieve exactly what they want for their windows and doors. 
Click below to contact us now for more information or to receive a free estimate for the windows and treatments you have in mind for your property.