Whether or not you're planning on making a move in the near future, it's always a good idea to make investments to increase your home's value. Windows and doors figure into several of the best ways to increase home value, including:
Improved aesthetics (enhanced "curb appeal")

Increased sense of space or roominess

Improved energy efficiency

Lowered maintenance/increased ease of living

"Smartening" your home with technology
In this month's blog post, we'll tell you how.
Improve aesthetic charm
It is said that beauty is in the eye of the beholder, but it's better to be beautiful to as many beholders as possible. The more suitors you can woo, the more bargaining power you have as a seller. The best way to make a good first impression is with your front entrance. A steel entry door will cost you less than a fiberglass or wooden entry door but may not offer the same visual impact (or energy efficiency). Decorative features such as lites (glass units within door slab or framing), sticking (molding around panels), and transoms (glass units above frame) can contribute to a more appealing entryway, but they'll cost you more, too.
As far as windows are concerned, we all know that warped or rotting frames can be a major turnoff. Modern windows with well-maintained frames lend your home a cleaner look inside and out. If you want to really ratchet up the visual interest, you might consider a bay or bow window to totally transform the character of your home's "public" face. Bear in mind, however, that installation of these window styles is more involved and thus pricier. 
Before making any major investments, be sure to factor in when you plan to move, because you'll have less time to recoup that money. 
Increase sense of space and roominess
By and large, prospective home buyers are drawn to open concept floor plans — or failing that, design features that offer a greater sense of dimension or spaciousness. As a way to increase home value, you might incorporate indoor windows or wall cutouts for improved sightlines throughout your interior. Indoor doors that fold or slide (such as pocket doors) give buyers the option of fusing together or separating spaces according to their preference.
Another way to influence the perception of space is with natural lighting and views of the outdoors. For instance, a fixed picture window might be used to highlight a particularly gorgeous area of your property or surroundings. If the room faces a street or thoroughfare, you can still permit sunlight with a skylight or an awning window placed higher up on the wall. Do not underestimate the allure of a good patio — millennials are today's largest home-buying group, and patios are one of their most desired features. French or patio doors help bring the indoors and outdoors together, with head-to-toe views of the backyard. 
Improve energy efficiency
Energy efficiency improvements increase home value an average of 1 to 3 percent, so energy efficient windows and doors are a no-brainer in the event your home doesn't have them already. Look for the all-important ENERGY STAR label, which means the window or door has passed National Fenestration Rating Council (NFRC) testing, certification, and verification per guidelines established by the Environmental Protection Agency (EPA). 
ENERGY STAR windows and doors possess the best insulative qualities for your climate, and can help you lower energy bills up to 15 percent. This is a major perk definitely worth conveying to interested buyers, but remember that total window replacement can set you back tens of thousands of dollars. Determine first if it's even necessary, and second if you'll be sticking around long enough to enjoy the return on investment. After all, buyers can apply for an energy efficient mortgage (EEM) to make upgrades themselves.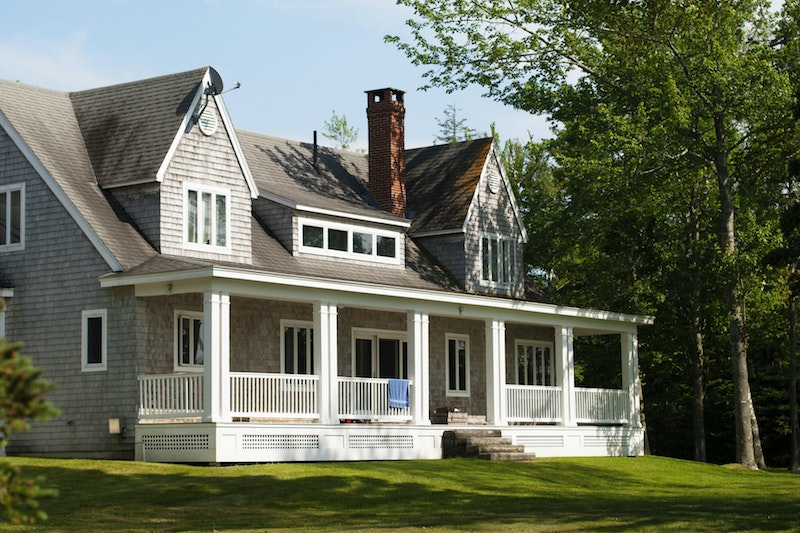 Reinforce peace of mind
Recently replaced windows and doors can increase home value in another important way — they're one less item the buyer has to take care of after move-in. Furthermore, they're easier to clean, maintain, and operate than their older counterparts. One less thing they have to worry about is one more thing you can sell to them when negotiating an offer. 
If you can't afford to replace the windows, you might consider updating your window treatments — for instance, ditching old curtains and drapes in favor of vertical blinds. This will decrease the perception your home is "high-maintenance" and better suit modern design sensibilities. 
Integrate smart home technology
Windows and doors featuring smart technology can be locked and unlocked or even open and closed remotely through a smartphone app. The added security and sense of control is a big plus for millennial homebuyers, so if you have such a system installed, be sure to advertise it. 
In isolation, windows and doors may not have the sway in overall home value as a renovated kitchen or bathroom, but their placements, styles, and features are seen and felt everywhere. As the real estate market heats up, they could help make your home the hottest on the block.