Do you have drafty windows, condensation accumulating between panes of glass, or mechanical problems with your windows? If so, you probably already know it's about time to replace your windows, but exactly how do you select replacement windows for your home?
There are so many different factors to consider when replacing your home's windows, such as framing material, type of glass, and style. Selecting different features for your new windows can be daunting if you've never had to replace windows before, so we're here to break it all down for you and help make your decision easier.
Window framing material
There are four main types of window frames that are used for modern replacement windows: wood, vinyl, fiberglass, and aluminum. 
There are also composite frames that are made from different combinations of these materials. For example, many modern wooden window frames have exterior vinyl or aluminum cladding to protect the wood from the elements and eliminate the need to paint them.
Let's take a look at some of the pros and cons of different window framing materials to help you choose a type of framing for your new windows.
Wood
Wood window frames offer some of the best insulation you can get. You can also choose from a variety of stylish woods to get frames that really complement your home's style. 
However, keep in mind that wooden windows require more maintenance than other types because you have to paint them to protect them from the elements (unless you choose wood-clad frames).
Wood frames are also not always ideal for particularly humid and rainy climates because they have the potential to rot if moisture gets inside them.
Vinyl
Vinyl window frames are one of the most budget-friendly options on the market, and they still offer great insulation. They're a very practical choice when you want a good balance between quality and affordability.
One thing to consider is that vinyl frames often come in limited color schemes, so it might be harder to find a style that matches your home. Darker vinyl can also fade over time from exposure to the elements.
Fiberglass
Fiberglass window frames are a great option when you're looking for extreme energy efficiency. They have very low thermal conductivity and are stronger and harder than vinyl windows. However, these features also give them a higher starting price point.
Aluminum
Aluminum windows are not as insulating as those with other framing types, but they are ideal for humid, rainy climates. They are also very impact resistant, meaning they're great for storm-prone areas and hurricane zones.
Composites
Composite window frames are a popular choice because they can combine the features of different framing materials. For instance, you can get frames that have the appearance of natural wood, but the durability of other materials.
Window glass
Once you've decided on what frames you want for your new windows, the next thing you have to select is the type of glass to go in them. You'll want to determine how many panes of glass you want in your windows or whether you want any special coatings.
Almost all modern energy-efficient windows for homes are either going to be double-pane or triple-pane windows, so you just have to decide between the two. The more panes of glass there are, the more insulating the windows are. While triple-pane windows do offer somewhat more energy efficiency than double-pane, the added expense may only be worth it if you live in a noisy or congested area.
You can also get glass with special coatings, such as low-emissivity and heat-blocking coatings, to improve the energy efficiency of your windows. This can be a more affordable way to make double-pane window glass more efficient at a lower cost than replacing your windows with triple-pane glass.
Double-pane or triple-pane windows will almost always have gas (i.e. argon or krypton) pumped into the space between the panes of glass. This offers more insulation than the air that normally sits there, further improving the energy efficiency of your home.
Ultimately, budget is going to play a big role in what type of glass you choose for your windows. Just keep in mind that the more you spend upfront, the more money your windows can potentially save you on your monthly utility bills in the long run.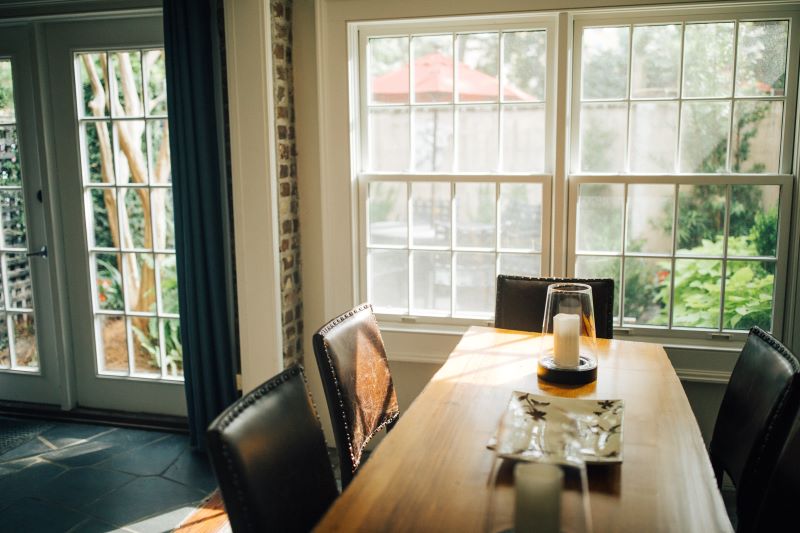 Window style
Now comes the fun part: choosing a new style for your windows! Some of the most popular styles of windows are single-hung, double-hung, casement-style, awning-style, sliding, and fixed windows. They all function a little differently, so here's a rundown of what these different terms mean.
Double-hung
 Double-hung windows have two moving sashes that slide up and down, allowing for great ventilation and airflow.
Single-hung
Single-hung windows look just like double-hung windows, but only one of the sashes moves. The other sash is fixed in place.
Casement
Casement windows are a style of hinged window with hinges on the side that allow them to open outwards to the left or right (using a hand crank). They allow great visibility and are particularly airtight when fully closed.
Awning
Awning windows are very similar to casement windows, but they are hinged at the top. Since they open outwards towards the top, the glass creates a slope that deflects water away from your home, which is nice if you want some airflow while it's raining.
Sliding
Sliding windows are on a track, like a sliding glass door, which allows you to easily slide the different panels past one another to open up your home.
Fixed
Fixed windows, or picture windows, are fixed in place and do not open. These are ideal when light and views are more of a priority than ventilation.
If you don't want to change the appearance of your home too much, you might just choose replacement windows in the same style as your existing ones, but this is also an opportunity to give your home a facelift or some new functionality!
Note that switching up your window style too much can be more complicated (and expensive) if it requires you to resize or adjust the rough opening the frame fits into.
Calculating return on investment
When it comes to ROI for replacement windows, energy efficiency plays a big role in helping you recover your investment through energy savings. However, that's not all there is to it.
The type of windows you choose can also add to the value of your home, increasing your ROI if you decide to sell your property down the road.
So, what windows offer the best ROI? Well, there's really no one type of window that offers a better ROI than all the others. It essentially comes to finding the best balance between cost and the quality/features of your windows. 
Just make sure you choose the right type of framing material for the climate you live in to ensure the windows last. Then, add whatever energy-saving features to the glass that your budget allows for. Finally, pick a style that increases the curb appeal of your home.
Another thing you can look into is energy rebates offered by your local utility company for things like ENERGY STAR windows, which can instantly increase your window replacement project's ROI.
Replacement windows from Hodges
Whatever replacement windows you end up choosing, Hodges Company has a plethora of options from the leading manufacturers and the most respected suppliers. All of our products are known for quality and we are experts at replacement window installation.
Still don't know what windows to buy for your house? Don't hesitate to reach out with any questions you may have  — our team of professionals is always happy to help you make the right decision.