Bundling up to deal with drafty windows in your home doesn't have to be a part of the winter routine. It is fairly easy to learn how to fix drafty windows once you know how to detect air leaks and apply the right seals.
Even if you don't mind the extra blankets and layers, it is important to consider the impact drafty windows could have on your energy bill. Heat can slip through the cracks, affecting the efficiency of your electric or gas heating. Feeling a breeze might indicate not just a faulty seal, but a greater issue in the structural integrity of your home. The air flowing through may also carry moisture, which reduces the effectiveness of insulation and can cause mold, mildew, and rotting — not optimal for maintaining a long-lasting structure. 
Checking for air leaks around windows
In order to fix a drafty window, you have to locate the airflow. An easy way to check for leaks around windows is to wet your hand and hold it still in front of the window. Feel around in various places and mark the spots where you encounter cold air. Then, depending on where the draft is located, you will want to repair the seal, caulk, weatherstrip, or even replace the window altogether if the issue is structural. 
Air leaks are caused by ineffective seals and shifts between the walls and windows in your home. The phenomenon of weather, specifically wind, moving parts of your structure and creating pressure is called deflection. This is what can render weatherstripping and other sealing methods ineffective after a while. 
Where are my windows most vulnerable to leaks?
Leaks most often occur in windows with multiple movable parts, or when cracks and gaps appear in the wall around the window. If a window frame or pane rattles while opening or closing, it is leaking air. 
While single-pane windows don't insulate very well, double-hung windows and sliding windows can also be prone to leaks. You might consider installing storm windows as an extra layer of protection. 
Awning windows are similar to double-hung windows in that not only do they need a seal along the bottom but along the sides too, much like double-hung windows. For casement windows, air may leak where the handle is, especially if the weatherstripping is loose and the window does not firmly lock in place.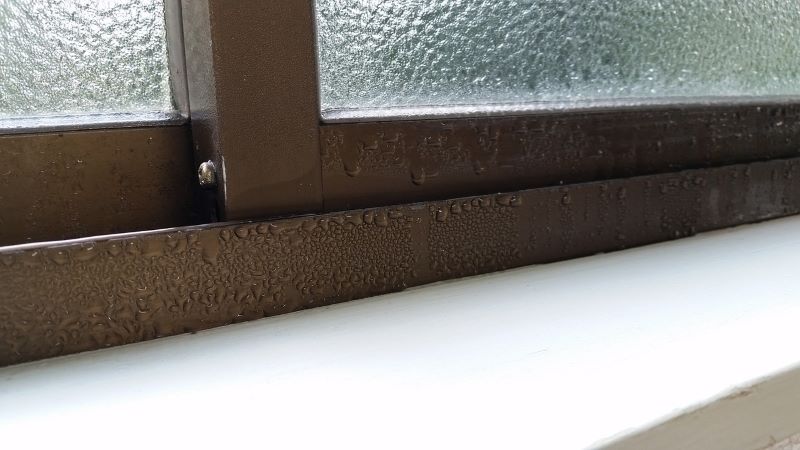 Caulking and weatherstripping
Weatherstripping is very effective in sealing windows, and there are many choices of seals to fit your windows. The seals have varying levels of installation difficulty, but most can be installed yourself. 
Weatherstripping should be checked twice a year and replaced as needed. It should run around the perimeter of the window and along the bottom of the pane — near any opening parts. If you're experiencing drafts, check to see if your stripping is damaged, folded, or not sitting correctly. 
Caulking can fill in cracks and gaps in the structure around the window, and is affordable and simple to do yourself. It is primarily done on the outside of the house, between the window and siding. 
These simple repairs and preventions can make a huge difference in the effectiveness and longevity of your window and its supporting structure. Check out our guide on winterizing your windows and doors to learn more about the types of caulking and weatherstripping.
How to repair a window seal
You can tell if a window seal is broken not only from a draft, but whether there is condensation or fog on the inside of the panes on insulated windows, or if the glass is cracked. The fog can be taken care of with an anti-fog spray and liquid sealant. The vast majority of sealing options can be done yourself, depending on your handiness and experience.
If you do not feel comfortable repairing the seal yourself, check the warranty on your windows to see if the manufacturer is responsible for repairing issues. Installing the following seals, however, are fairly easy and can be done at home:

For aluminum sliding windows and glass doors, a

fin seal

would be best. On a strip, the "Mylar fin" is the solid ridge in the middle of the strip which makes a more snug seal when pressed against the window frame.




Sweep/pile weatherstripping,

which looks fuzzy, is also great for double hung windows, sliding windows and doors.





Compression weatherstrips, often called

gaskets,

are best for casement, hopper, and awning windows. They are typically bulb shaped and compressible as the window squeezes tight.
Replacement windows from Hodges
Say you've located a draft, updated your weatherstripping and seals, but the wind still slips through. You peel back your siding and notice a huge crack around the window, and the wood looks like it's taken some water damage. This malfunction in the structure of the frame can lead to bigger problems down the road such as mold or pests living in the wood, and cannot be fixed by mere caulking.
If you're looking for more information on whether to replace or repair windows, check out our guide. If it is time for a replacement, the Hodges Company is here to help with quality brands and installation expertise.