Replacement windows can significantly reduce energy costs and boost the value of your home — but to realize those benefits in the long-term, homeowners must make significant financial decisions in the short-term. This not only includes how the window will look and what the window will be made of, but also how it will be installed.
There are two major paths you can take with replacement window installation:
Insert window replacement:

Otherwise known as a frame-in-frame or pocket window replacement, this type of installation can only be performed on wood windows. The installation technician removes only the old sashes, covers, and hardware while leaving the framing and trim intact. The replacement window is inserted and sealed into the existing frame.

Full frame window replacement:

Also known as "total tear-out" — everything (including the framing) is replaced, leaving behind the rough opening. Exterior and interior trim must be reapplied after this more extensive (and expensive) process, the equivalent of major surgery in the window universe.
Do I actually need a full-frame window replacement?
That depends on the degree of wear on your existing frames. If there is pervasive rot or softness around the frame, especially looseness around the side jambs or sill, then you should probably proceed with a full frame replacement. The installation tech will completely extricate all the "guts" within that rough opening and start over, custom-fitting the replacement window to the space so that it is square and plumb. Since both exterior trim (plus potentially siding) and interior trim (plus paint) are affected, maintaining consistency with the overall aesthetic of your home is a concern — especially if it is an older or historic home.  
However, full-frame replacement does present an exciting opportunity to update or reinvigorate a look that may have grown tired, with the additional peace of mind that comes with a fresh start. Furthermore, your options for window materials will be wide open. Granted the installation was performed correctly, your windows should be set for decades to come. 
Could insert window replacements be enough?
In many cases, yes. If the existing wood frame is in good shape with minimal rot, then an insert or pocket replacement window could make a lot of sense. Although you might lose a little bit in the window's total viewing area (since this insert frame is nesting within the original frame), exterior and interior trim will remain undisturbed, greatly reducing both the expense and degree of disruption within your home. Less involvement means the job gets done quicker, which cuts down on man-hours and labor costs.
In the event that only one or two windows are in need of replacement or you're considering putting your house up for sale in the near future, inserts are also a logical choice. Just bear in mind that wholesale changes are not possible with this method, and any lingering structural issues will continue to fester if not addressed. Additionally, it is only executable on double-hung, casement, picture, and awning windows.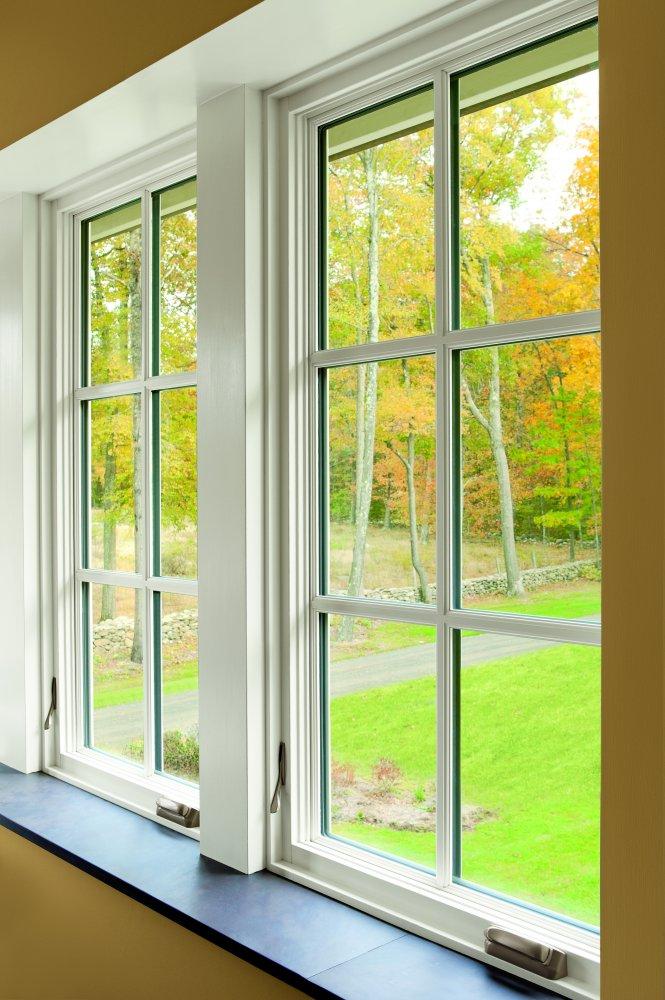 What are replacement windows made out of?
Vinyl — aka PVC (polyvinyl chloride) —has long been a go-to for replacement window manufacturers, particularly those of insert windows. Although it has historically had its shortcomings, such as vulnerability to ultraviolet rays, manufacturing processes have improved to enhance PVC and render it more resilient. An evolved form called cellular PVC better resists thermal expansion and contraction and effectively mimics wood in both its appearance and density. 
If going with a full-frame replacement, the multitude of framing materials may seem overwhelming. You could opt for a traditional and timeless look with wood windows, which among the best in energy efficiency but come with the ongoing responsibility of regularly maintaining and weatherproofing them. If that sounds like too much, perhaps wood clad windows may be ideal. These windows are shielded on the outside with a protective aluminum or vinyl cladding, while leaving natural wood exposed from the inside. Fiberglass and composite windows offer top-of-the-line performance and attractive looks and fall between vinyl and wood windows in price.
Don't forget about glass either — look for double-paned windows with a low-emissivity (low-e) coating to best regulate heat transfer. Although Northern Virginia and D.C. sit within a temperate climate, given the sultriness of D.C. area summers, you may want to shop for windows rated for lower solar gain, indicated by its SHGC (solar heat gain coefficient). Depending on where the window is situated in the home and how much sun it gets, you'll want to pay attention to the window's visible transmittance (VT) rating — a number closer to 0 will occlude more visible light, while a number closer to 1 will permit more visible light. For overall energy efficiency, take note of the U-factor (heat), air leakage, and condensation resistance ratings. 
Which replacement window installation is best for me?
Whether you opt for an insert window replacement or full-frame window replacement ultimately comes down to your needs and your situation. No matter which option you choose, proper installation is of paramount importance. Hodges Windows and Doors boasts over 100 years of replacement window installation experience and is one of the most trusted window contractors in Northern Virginia, Maryland, and Washington, D.C.