Ready to start enjoying your deck or patio again? While we're waiting for the weather to decide what it wants to do, it's a great time to review the types of patio doors available on the market. At its core, it's a fairly simple debate — sliding patio doors vs. hinged patio doors (aka French patio doors). There are variants of each operating style, but for most homeowners, it comes down to one or the other. Which is the right choice for you depends on factors like size, space, security, and aesthetics.
Hinged patio doors
Often billed as the more "traditional" type of patio door, hinged patio doors swing inward or outward from the door frame. A set of two hinged patio doors pushed or pulled open from the center are referred to as French patio doors. Subdividing the glass panel into more sections, or lites (with grilles or bars), will contribute to a quainter or statelier look. Less interruption to the viewing area conforms to a more modern aesthetic. 
Many homeowners will flank their French patio doors with double-hung or casement windows or top them off with transoms (fixed glass panels above the frame) — combined with some artful sticking and moulding details, these arrangements can have a truly marvelous effect. 
PROS: Classical charm and beauty; security is like that of a traditional door (deadbolt + knob lock); generally more durable than sliding patio doors; a single hinged patio door ideal for minimal wall space.
CONS: Functional space within the immediate vicinity of French patio doors reduced due to inswinging or outswinging operation; cannot be fitted with a screen door; may look too "old-fashioned" in some applications.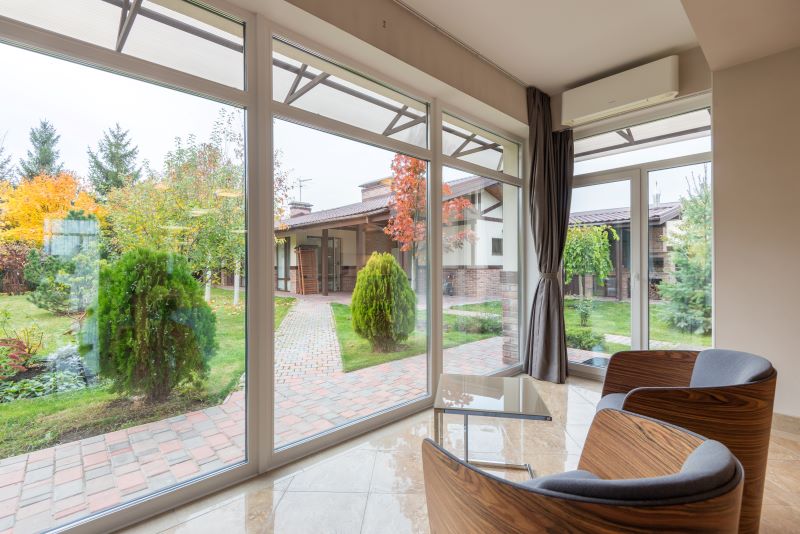 Sliding patio doors
Sliding patio doors are essentially supersized sliding/gliding windows, with glass panels sliding along upper and lower tracks. Generally speaking, sliding patio doors are considered more "modern" or "contemporary" because framing details are minimized while sightlines are maximized. However, for those who appreciate the detailing and elegance of French doors but prefer the operating style of sliding patio doors, sliding French doors represent an excellent compromise. 
Sliding patio doors most often consist of one fixed (immovable) glass panel and one operable (sliding) panel, although today's manufacturers offer several intriguing multi-panel configurations, which might entail extra panels, more than one sliding panel, and/or panels that utterly disappear into pockets built into the wall. 
PROS: Clean and modern "wall of glass" aesthetic; space on either side of the door can be fully utilized; can be paired with sliding screen door to let fresh air in while keeping the bugs out
CONS: Less secure than hinged patio doors (simpler locking mechanism makes them easier to break into); sliding panels can stick or come off-track
Bifold patio doors
Less common but worthy of mention are bifold patio doors, which fuse hinged and sliding operating styles. Hinged panels fold or unfold as they are pulled along tracks, similar to an accordion. When fully opened, bifold patio door panels are barely there, neatly stacked upon one another to blur the separation between indoor and outdoor space. During the warmer months, this is a tremendously attractive option, especially if you are blessed with a beautiful backyard or stunning view. 
Find your perfect patio door with Hodges
Beyond operating style, there are all different types of patio door framing materials and colors, options for low-e or decorative glass, options for internal or between-the-glass shades and blinds (for enhanced privacy), and more. Get in touch with Hodges to find your best fit.