Hodges partners with only the leading manufacturers of replacement windows. One of the top names in the industry is Marvin windows. Marvin stands out among other competitors simply because of their superior quality. Marvin replacement windows are made with exceptional craftsmanship and their innovative styles push the boundaries of interior design. Their windows have a stunning appearance that looks flawless in both interior and exterior settings, not to mention their durability makes them stand the test of time. 
At Hodges, we only sell quality replacement window products from quality providers, because we strive towards excellence in all that we do. Marvin replacement windows help us reach our high standards and guarantee top-notch services to all of our customers. 
Who is Marvin?
Marvin Windows has been steadily raising the bar in window performance and design. Since they started in 1912 as a family-owned and operated lumber company, Marvin has become one of the top names in the industry. Their replacement window styles and designs are created to match the newest trends for residential and commercial spaces. With such a wide range of styles, Marvin has a window that can surely match your interior space. 
Features of the Marvin Modern Windows Collection
At Hodges, we carry the Marvin Modern collection of windows. Our customers have absolutely loved both the design and efficiency of these windows and it's not hard to figure out why.
Simple, modern design
Marvin Modern windows are created to meet the standard principles and design of modern architecture. This specific collection of windows emphasizes simplicity, which allows them to seamlessly fit into any interior space and stand the test of time. Many of the windows featured in their Modern collection are created to be large and expansive, which can instantly bring life into a room. The low gloss black aluminum detailing adds to Marvin's minimalist design, yet the simplistic beauty keeps the sunlight as the focal point.
High density fiberglass
Marvin Modern windows are created with high-density fiberglass, which makes them incredibly energy efficient. Their windows are crafted using what Marvin calls an Integrated Mull Channel, which is their very own double pane window technology. This not only adds to the structural integrity of the window itself, but it helps keep your home at a steady, comfortable temperature.
Thermal performance 
Marvin replacement windows are beautifully designed, but they also pride themselves on first-class thermal performance. With a thermally efficient window frame and high-density fiberglass material, a Marvin window will surely give you a return on your investment.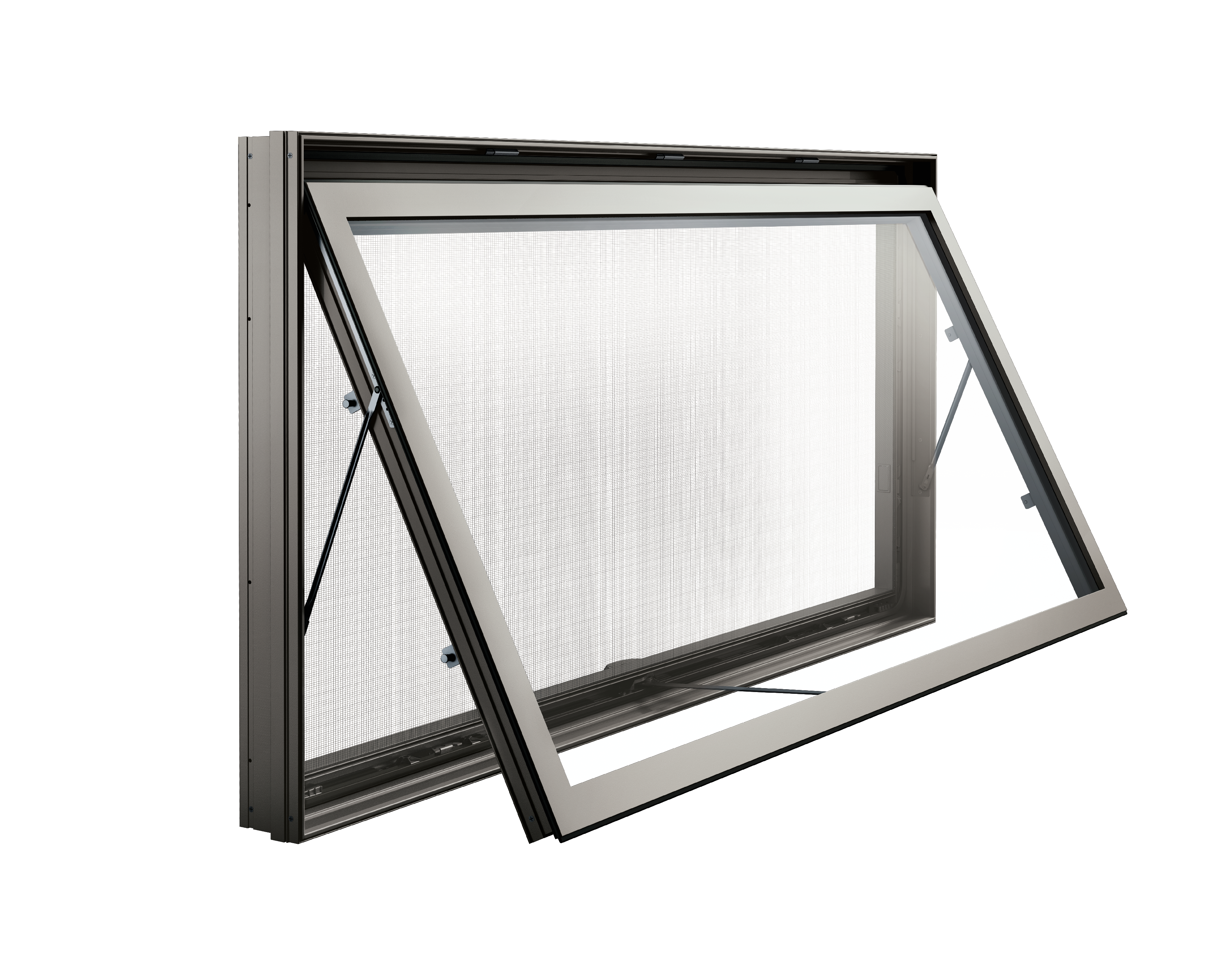 Marvin replacement windows offered by Hodges
Hodges offers two main types of Marvin replacement windows within their Modern series: awning windows and casement windows. These windows have the ability to open fully outward, which makes them a great option if you're interested in ventilation. Both of these types of windows are top performers when it comes to energy efficiency. But Marvin's Modern window features, specifically their thermal performance and high-density fiberglass, help insulate your home during the colder seasons, too.
Marvin awning windows
Awning windows open in an upwards direction, a feature that allows them to remain open during wet weather conditions. These wide windows are perfect for mild, damp climates that may make it harder for fresh air to enter your home. Hodges can install your Marvin awning windows so that they open sideways, too. Marvin Modern replacement windows offer high-quality awning windows that insulate your space and add airflow to your home - the choice is yours. 
Marvin casement windows
Marvin casement windows are picture-perfect. These replacement windows are an excellent choice for anyone who loves to gaze upon the great outdoors waiting beyond their windows. Casement windows have only one sash, which is the portion of the window that holds the glass and allows it to move when you open it. Marvin casement window's discreet sash allows you to have large areas of unobstructed glass. These windows are available in a variety of styles that Hodges would be happy to accommodate. 
Choose Hodges for quality replacement windows
We offer high-quality work at Hodges Windows & Doors. That's why we're only interested in the top names in replacement windows. If you found yourself interested in Marvin replacement windows, or our services in general, contact Hodges today to speak with a member of our team.